The Ranger Station
A simple identity for a small corner pub situated in the shadow of Mount Tabor in Portland, Oregon.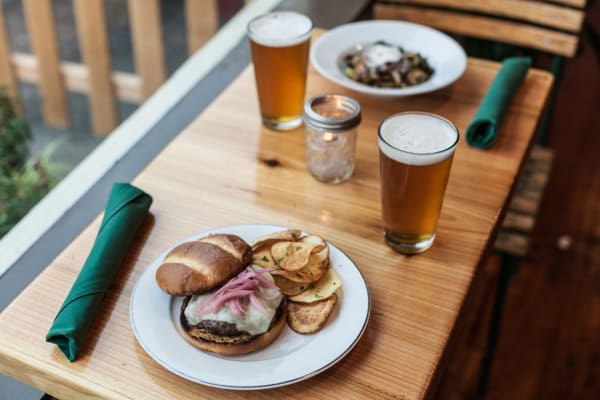 Role
Visual Designer
Experience Designer
Identity Designer
Completed
Original Brand - May 2015
Website Updates Pending
In 2014 a good friend came to Never Better with a meager budget and big plans to transform a dank and dusty hole-in-the-wall bar into something that could be enjoyed by the neighborhood, instead of overlooked. Within a short time period the "Station" was born and became a lively staple in the neighborhood.
 The original identity takes clues from the National Parks service and state agencies alike. The "Station" pays homage to the hardworking individuals that keep our lands wondrous...the park ranger. The interior of the pub finds inspiration in old park lodges built in the 50's. Black and white photos of park service employees adorn the wall. Pick axes, topographic maps, old canteens and lanterns abound. Copper glassware, hand-built wood tables and bar all mingle to transport you to a lodge deep in the woods.

In 2021 as most of the world was still reeling from the pandemic, the Station had to shift its focus and attract new customers to stay afloat. A simple rebrand was needed to help promote the two things that the Station does best, delicious food and hand-crafted drinks. As the bar became more established as part of the neighborhood, the brand became a bit more refined and moved away from the direct correlation to the National Parks. 
Website coming soon.